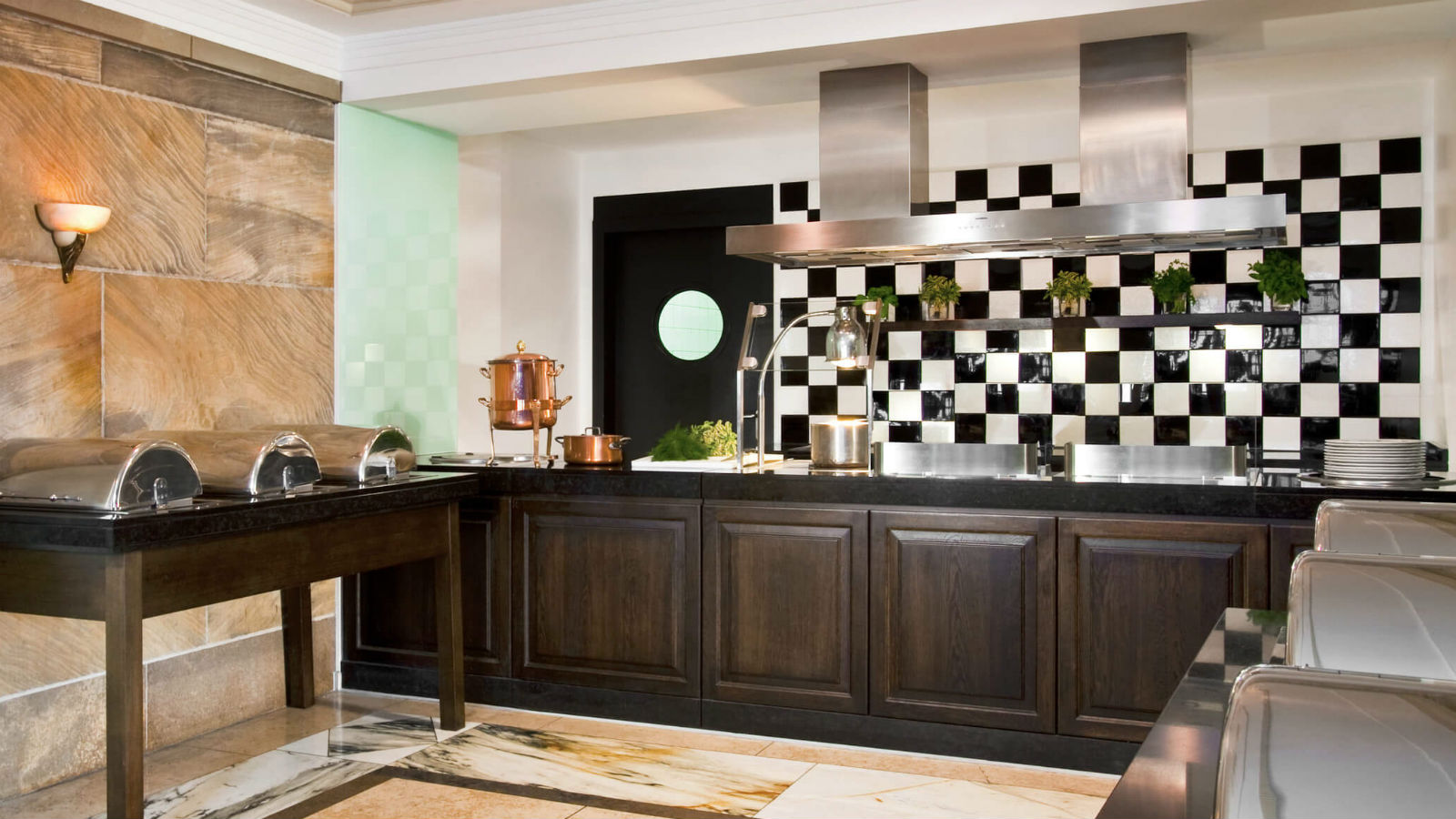 Nuremberg Restaurants Brasserie
Breakfast

6:30 AM - 10:30 AM

Lunch

12:00 noon - 2:00 PM

Dinner

6:00 PM - 10:00 PM
à la carte
The Restaurant Brasserie offers culinary variety in an elegant ambiance. Have a look into our current menu.
Kitchen chef's recommendation menu - price: € 45
Beechwood smoked fillet of veal - € 14
with chanterelle salad
Pumpkin soup - € 8
with fried potato spaghetti
Braised suckling pig cheeks - € 19
served with beer sauce caramelized silver skin onions and potato spinach roll
Panna cotta from quince - € 8
with cranberries
Starters
Filet of lamb sautéed in cumin butter - € 13
with wild herb salad and a fruity pomegranate dressing
Seasonal leaf salad - € 11
with avocado, orange, caramelised walnut seeds and buttermilk lime dressing
Porcino blini - € 12
with lamb's lettuce and horseradish dressing
Oysters "Fine de Claire" from the Bretagne - € 17 / € 30
with chester bread, lemon slices (half a dozen / one dozen)
Soups
Cauliflower soup - € 8
with curcuma and baked puff pastry stick
Beet root soup - € 8
with ricotta spinach ravioli and sour cream
Essence of black chanterelle and hedgehog mushrooms - € 8
with poached quail egg
Fish Dishes
Char fillet - € 20
with tomato crust and red wine glace with small potatoes and roasted onions
Sea bass fillet poached in olive oil - 20
with creamy date risotto served with orange blossom water flavoured cherry tomatoes
Vegetarian & Vegan Dishes
Potatoes pumpkin curry - € 17
with beet root chutney and rice with cashew seed
Buckwheat avocado spaghetti - € 16
with sautéed cherry tomatoes and soy sprouts
Meat Dishes
With avocado oil and chilli marinated barbarie duck breast - € 23
served with baked sweet potato - mango mash, broccoli and port wine sauce
Argentinian fillet steak - € 29
with lemon-green pepper sauce potato pyramid cake and ragout of courgette and tomatoes
KITCHEN CHEF´S RECOMMENDATION
Variation from saddle of deer and reindeer sausage - € 28
with creamy leek Tagliatelle and burgundy sauce
Choose your steak with individual side orders
Argentinian beef filet 200g - € 28
Rib Eye steak of the Bavarian free-range beef 300g - € 29
Served with:
Sauce - each € 3.50
chilli sesame sauce / burgundy sauce / garlic-herb Butter
Side Orders - each € 3.50
onion potatoes / twisted potatoes / potato pyramid cake / baked potato with chives cream
Small side salad - € 5.50
with pomegranate dressing, buttermilk lime vinaigrette, Salad dressing "Grand Hotel"
Dessert
Chestnut tartelette - € 8
with orange filets and orange sherbet
Mille feuille - € 8
from mascarpone and currant
Caramel chocolate tarte - € 8
with salted peanuts and vanilla-apricot ice cream
French cheese - € 14
with fig mustard and grissini
Candlelight Dinner | September 2018
Essenz von Herbsttrompeten
Tournedos vom Rind in Vanillebutter gebraten
All prices include service and VAT. Please inform us about any special dietary requirements or any food related allergies or intolerances which we should take into consideration when preparing a meal. If you require any further information on ingredients
Breakfast
Enjoy daily from 6:30 AM - 10:30 PM
Price: € 27 per person
A new breakfast experience - not only for our hotel guests - created to stimulate the senses. Start the day with a healthy breakfast buffet and our eye-opening-shots.
Brunch
Enjoy every Sunday from 12 noon - 3:00 PM
Price: € 39 per person
Price: € 49 per person easter and Mother's Day brunch
Start your Sunday morning easy and sleep in. Enjoy our buffet brunch and combine the dishes at your own discretion accompanied by live music.
Lunch
Lunch is served monday to friday from 12:00 noon until 2:00 PM
The Restaurant Brasserie offers a daily à la carte selection, weekly changing Franconian specialties and various international dishes including a hot beverage.